The #SunnyDundee Skyline by Pamela Scott
Have you seen the #SunnyDundee Skyline window artwork on Level 2?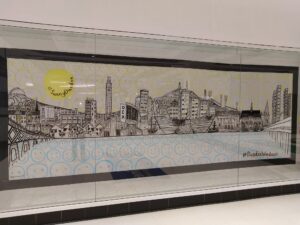 Created by illustrator and print maker Pamela Scott, it's just one of the windows in the Dundee Council's #DundeeWindows project to brighten up the city centre.
Pamela's hand-drawn illustration is a celebration of Dundee's iconic skyline and some of it's most famous landmarks such as the V&A museum, the McManus Galleries, the Law monument and Cox's Stack as well as recognisable structures such as the Hilltown multis, the oil rigs on the Tay, the road and rail bridges, even the neighbouring football stadiums sneak in.
And all the smiling faces? Well, did you know that Dundee was named by The Sunday Times as one of the Best Places to Live in the UK in 2020 as well as Number 1 in their Best Place to Live in Scotland Guide in 2019. Definitely something to smile about!
And it does seem like the sun shines A LOT in Dundee. So much so that it has its very own hashtag!
The Dundee skyline is instantly recognisable but how often do you get the chance to take a selfie beside it? Why not point to you favourite building or somewhere you have visited recently. Or just give us a big #SunnyDundee thumbs up!
We'd love to see your pics beside this window. Share your photos on Instagram and Twitter using the hashtags: #SunnyDundee and #DundeeWindows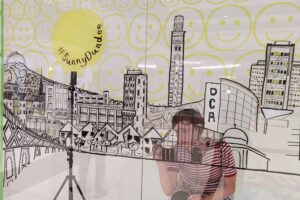 About the artist:
Pamela Scott is an illustrator and printmaker from Dundee. She creates drawings, paintings, prints and public art often inspired by her home city.
Discover more about her work at www.pamelascottprintmaker.com or follow her on Instagram: @pamelaprints