29th Nov | 30th Nov | 1st Dec
We are proud to be hosting the city's biggest Festive Market and Business Start-Up Exhibition from Friday 29th November to Sunday 1st December 2019.
Brought to you by Women's Business Station in association with Coca-Cola 5by20 Dundee, the event will showcase the talent of around 100 local businesses, with everything from Wine & Chocolate, Independent Designers, Food Producers, Local Distilleries, Beauty Products and Bespoke Gifts on sale.
There will also be a variety of gift vouchers for sports massages, beauty treatments, business services and much more!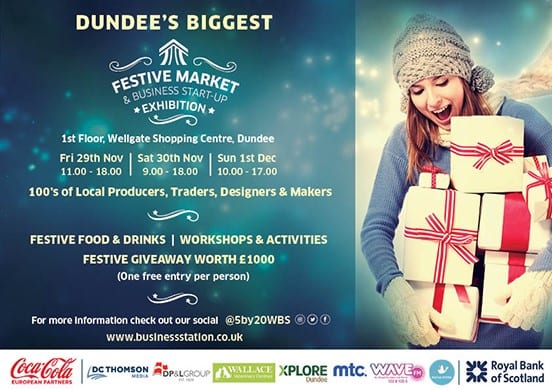 With something for all budgets and tastes, this is a unique chance to buy a little bit of Dundee & Angus for your friends and family, commission something for that special person, and maybe grab a gift for yourself in the process.
There will also be a number of workshops available to take part in throughout the weekend which include Candle Making, T-Shirt designing, Wreath Making, Henna and much more!
And, as we all know, charity begins at home so this free ticket includes 1 free entry* into the prize draw which could see you win a festive hamper jam-packed with a range of festive goodies donated by our retailers here at Wellgate, worth a staggering £1,000!
From toys, toiletries, perfume, homeware, clothing, electrical items and even festive decorations, this hamper will top off your Christmas in style.
What's more, all proceeds from the prize draw will go to local kids' charity Help For Kids which every year provides support to over 2,000 disadvantaged children throughout Dundee and Perth. With Wave FM broadcasting live from the event, the lucky winner will be announced at 3pm on Sunday 1 December.
Women's Business Station, to be launched on Friday 29 November 2019, will continue the legacy of the Coca-Cola 5by20 Dundee programme, increasing the number and diversity of female entrepreneurs in Tayside, and beyond.
For more information, and to book your free ticket or book a workshop, click here or share the event with friends on Facebook.