Monday 9th – Sunday 22nd December, 9am – 5.30pm
Level 2
14 days of a fabulous Christmas Shoppers Market in the Wellgate Shopping Centre.
This is your chance to grab a unique or personalise hand crafted gift and tick off your Christmas list one by one.
There will be different stalls attending throughout the fortnight.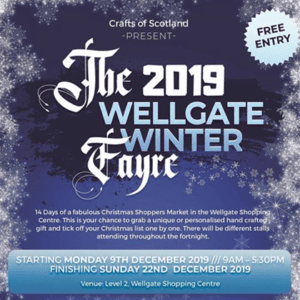 Jewellery, Wood Burning, Fabrics, Authors, Ceramics, Knitting, Tartan, Cards, Clothing, Gifts and so much more!