From Monday 1st February, Wellgate's Workplace Chaplain is working with HCS (Home & Business Computers Support) to offer a drop off point for old laptops and tablets for disadvantaged school children.
If you think you can help, please call Enquiries at HCS on 07486 637141.  You will then be advised when to drop off at the Workplace Chaplain.
The equipment will be transferred to HCS where it will be completely wiped and refurbished, and then be issued to schools in the Dundee area for pupils who would otherwise not have access to a computer.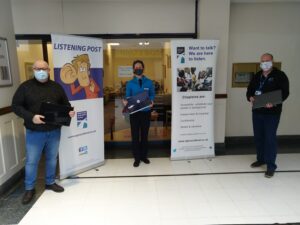 📷 L to R: Geoff Findlay (Workplace Chaplain); Morag Dennis (Wellgate Centre Manager); Malcom (HCS)